Welcome! We are now Couch Clarity, P.C.!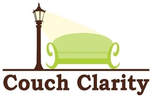 Are you ready to make a positive change? Couch Clarity in Elmhurst, IL and Villa Park, IL both provide an innovative treatment alternative to traditional talk therapy. Dr. Bercier and our staff feel it is important to provide alternative services for people who may not feel completely comfortable in an in-office setting and are then not able to reap the benefits from therapy. Walking and talking is also for those who want to try something new and different! No matter what your reason is, walking and talking is a great way to have a positive, therapeutic experience!
We have EXPANDED and now have a second office
at
217 S. Villa Ave. in Villa Park, IL. This location has 3 therapist offices and is right on the Prairie Path (just like our Elmhurst office) in case you would rather walk and talk for your therapy session! Couch Clarity's website
couchclarity.com
has launched! Please go to Couch Clarity's website for more info on this location! The number at Couch Clarity is 844-984-7252.
In-office sessions are also available if you prefer this method of therapy!
The start of Walk and Talk and Couch Clarity is due to an inspiration to create a space to meet the needs of our community. Focusing on being empathetic, genuine and positive, Dr. Bercier and her staff create a comfortable and nonjudgmental approach to therapy for their clients. The atmosphere is hopeful and encouraging where clients can feel relaxed and empowered to make a positive change in order to reach their life goals.
During and after walking and talking, you can:
HAVE MORE ENERGY
FEEL LESS INHIBITED
BE MORE IN TOUCH WITH YOUR FEELINGS
FEEL MORE CONFIDENT
EXPERIENCE DECREASED DEPRESSIVE SYMPTOMS
EXPERIENCE DECREASED ANXIETY
FEEL MORE EMPOWERED
HAVE CLEARER THOUGHT PROCESSES
Walking has been shown to:
*DECREASE STRESS
*PROMOTE SLEEP
*BE A HEALTHY COPING SKILL
*BUILD RAPPORT FASTER WITH YOUR THERAPIST
*DECREASE TIME NEEDED OVERALL FOR SUCCESSFUL
THERAPEUTIC TREATMENT
---


Credit cards (Visa, MasterCard and Discover), cash or check accepted at the start of each session.
Blue Cross Blue Shield Provider
If you do not have Blue Cross Blue Shield,
we are considered an out of network provider.
Our Billing Department will be happy to check on your insurance benefits for you!

Melissa Bercier, PhD, LCSW
630-280-9299
couchclarity@gmail.com